Maximize your Trade Show Marketing Results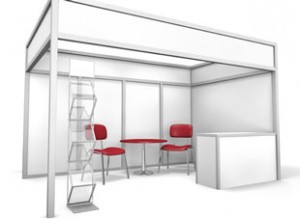 How do you let attendees know that you'll be one of the hundreds or even thousands of vendors exhibiting? Simple! Use your website. It takes some creativity but its well worth it. Below, are 7 ideas to help maximize your trade show marketing results:
List All of Your Trade Show Events. Whether local, international, each trade show is promotion for your company. On your own website, links to the trade show website to promote your business before the show, 

and 

thanks to search engines, can last forever. Even if you have the smallest space at the show, the listing implies you are an industry leader. Note: Be sure to remove listings before the year is up—if not, it gives your visitors the impression that you don't regularly update your website with fresh content.
Add a Photo. Highlight each of your exhibits for each listing. Even if you have a small space, say a 10×10 and include images like your booth's banner, a photo of the give‐away, etc.
Who Are You?  

Photos of your staff  humanizes your brand and gives show attendees a face to associate with your business.

 Photos also helps to make your staff more approachable by strangers either coming to your booth or even during other activities at the show.
Add a Map. Focus on your physical location at the event. Provide a floor map and highlight your booth. Why? Expo centers can have as much space as 1,200,000 square feet of indoor show space (Kentucky Exposition Center)—that being said, no one will ever find you unless you direct them.
Promote! Heavily promote your booth number. Be careful if you are in a special hall. For large shows, be sure to differentiate your location from other trade show exhibitors. So prominently indicate your booth number, wing, hall location, etc. You should also highlight this on your map.
Set Appointments. Reach out to show attendees and make it simple for people to contact you before the show to set appointments during the show. This allows you, and your prospects/customers, to meet face-to-face which brings additional value to the conversation.
Tell People. Most folks won't look at your website unless you tell them to look at your website for trade show information. Do this via e-mail, social media posts, phone calls, etc. Your website is the essential tool in trade show marketing.
Does your business have any additional tips for effective trade show marketing?